Do You Have Any Concrete Construction Project To Start?
There are several reasons why we recommend using concrete for driveways. It's simple to install and much more versatile than other materials, and it'll last much longer with much less upkeep than other materials.
Concrete has minor shrinkage and expansion due to weather and temperature changes and can last for up to 30 years. Concrete Contractors of Dallas takes 1–3 days to build driveways, depending on their size and complexity.
Concrete is prone to cracking, though this can be reduced when it is laid by professionals. Although maintenance is possible, replacement driveways last longer and are more aesthetically pleasing than hodgepodge driveways.
If you need strong foundations laid or repaired, we can help you, as we work with the business's best Dallas foundation contractors. Concrete foundations will crack over time, and while minor cracks are unsightly, they aren't a cause for concern in most cases. Concrete coloring can be used to repair and hide these flaws. On the other hand, significant cracks appear to be warning signs that you may have other pressing issues with your structural integrity.
When cracks of any size are discovered, it is best to contact professional concrete contractors. We can inspect your current foundations, no matter how large they are, and recommend a solution to unsightly cracking or a much more severe problem.Our foundation contractors are knowledgeable and skilled in pouring foundations or, in the worst-case scenario, foundation repairs.
Relative to regular patios, pool decks possess unique specifications. They have to tolerate exposure to water and chemicals for pool sanitation. Surfaces need to be easy on the feet when barefoot, anti-slip, and won't crack or split. Concrete is the most straightforward and economical process you can personalize. Our pool decks can fuse into your surroundings and make your area unique.
We provide stamped concrete in a variety of designs to create a pool deck that resembles brick, tile, wood, and other materials. Colored concrete is another design option that goes well with stamped concrete; we also have concrete stencils, a popular alternative. You can improve your concrete stamping efforts while also adding flexibility and character to the design.
Concrete Contractors of Dallas can apply rock-salt finishes for a low-cost slip-resistant surface, or you can go with revealed aggregate for a faded look. Our stamped concrete is ideal for residential and commercial areas, as it never needs to be replaced and eliminates tripping hazards. It can also add instant curb appeal and aesthetic value to properties. If you want a unique look for your home or business, want to extend the life of your pool decks, or need a quick project installation, stamped concrete from Concrete Contractors of Dallas is the way to go.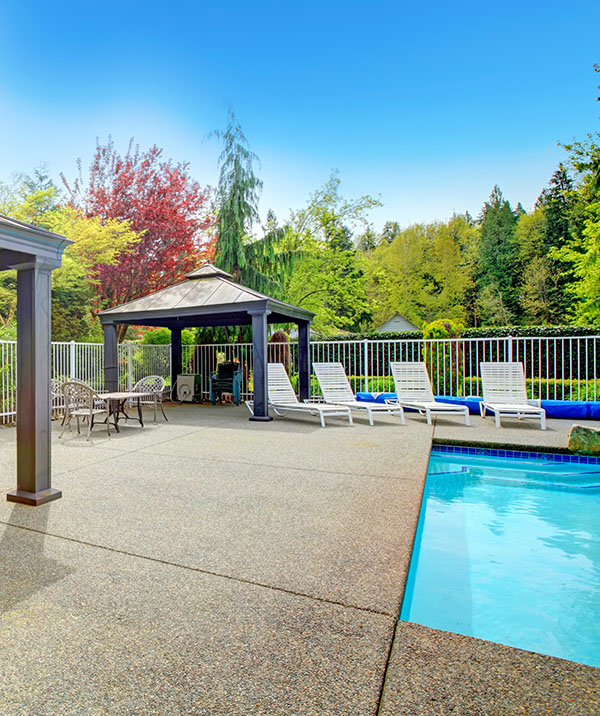 Do You Have Any Concrete Construction Project To Start?
Delivery & Concrete Pumping
Pumping concrete is more efficient than other concrete distribution methods. Our concrete contractors pump concrete faster and more reliably to reduce costs by using long-range pumps to scale or cross difficult-to-reach areas and reach tight places that other methods may not be able to get. Pumping can save a significant amount of time and produce a more luxurious finished product than those built without it, as seen in higher-quality buildings and infrastructure.
Pumping achieves the desired slumps and eliminates the need for additional water, which can lead to concrete cracks. Our concrete pouring service in Dallas is the most refined method available. The hardware we provide at Concrete Contractors of Dallas is of the highest quality and is thoroughly tested regularly. Before beginning any pumping job, we survey the area to determine the best tools for the job based on location, size, distance, height, and other factors while keeping operators and on-site workers safe.
Our concrete meets the highest quality standards, and we provide excellent concrete pumping services to a wide range of commercial and residential construction companies.
Do You Have Any Concrete Construction Project To Start?